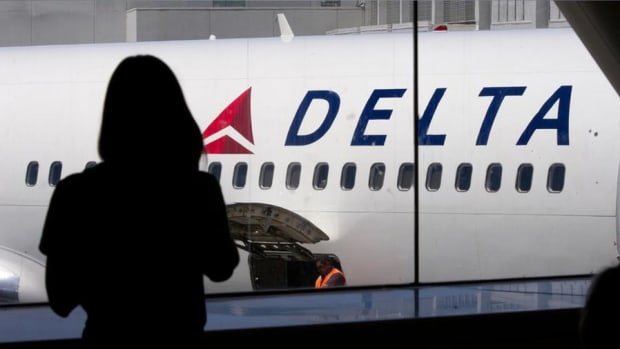 Delta Air Lines  (DAL) - Get Report is burning through $50 million in cash every day amid the coronavirus pandemic, and it has refunded more than $1.2 billion in customer fares since the start of the crisis.
In an effort to reduce costs and preserve cash, the air carrier announced it will no longer use Boeing's 777 aircraft. Delta anticipates it will need a smaller network, and aircraft fleet, in the years ahead.
"The board of directors on May 13, 2020 authorized a plan to retire our Boeing 777 aircraft and remove them from service by the end of 2020. We also previously determined to accelerate the retirement of our MD-90 aircraft, which will exit the fleet effective June 2020," wrote the company.
Delta's stock has fallen more than 70% year-to-date.
In March, global airline passenger volumes for the month fell to the lowest levels since 2006.
Berkshire Hathaway  (BRK.A) - Get Report, the conglomerate run by billionaire investor Warren Buffett, has sold its entire position in the U.S. airline industry.
"It turned out I was wrong about that business because of something that was not in any way the fault of four excellent CEOs. Believe me. No joy of being a CEO of an airline," said Warren Buffett.
Watch More of the Latest Videos from TheStreet and Jim CramerCoronavirus Update: French Officials Call Sanofi Vaccine Prioritization 'Unacceptable'Jim Cramer: No Way That J.C. Penney SurvivesJim Cramer: I'm Looking Out for the People Who Were Me Before I Made MoneyJim Cramer: TikTok Is the Hottest Company on EarthJim Cramer: Banks Could End Up With Really Bad Loan BookWhich Countries Have the Most Doctors?C-Suite: Crunch Fitness CEO's Tips for Staying Fit Indoors